Ho-Chunk Nation Member Bronson Koenig Hopes to leave an impact on future leaders of Indian Country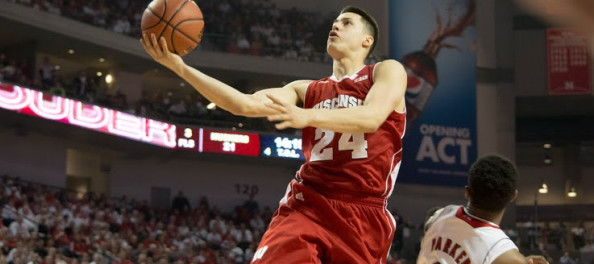 By Charlie Perry @CharlieHPerry
(Omaha, NE) – As rising star Bronson Koenig and the Wisconsin Badgers tie up their red lace Nikes and prepare to run out of the tunnel at Century Link Area, their eyes are set on the beginning of another Final Four run in Omaha Nebraska tomorrow. Native Americans everywhere are reminded once again, of what an inspiration this college sophomore from a humble background can be.
After starting Wisoconsin point guard Traevon Jackson sustained an injury earlier in the season, Koenig has stepped up at point guard, and since averaged 11.3 and 2.5 assists per game. Koenig has also helped lead Wisconsin to the Big Ten regular season championship and the Big Ten post season championship, as the Badgers came from behind late to force Michigan State to overtime. Wisconsin eventually came out on top by 11, 80-69. The Badgers find themselves as a 1 seed in the West region of the NCAA D1 National Championship, where they will take on 16 seed Coastal Carolina.
Ho Chuck Nation President John Creendeer in a 2013 interview with "Wisconsin Life" public television said, "Bronson is lighting our Nation up! He really is an inspiration for our youth but whether he knows us old, washed up athletes see everything we ever aspired to be in his profound abilities. If there's anywhere Indian Country needs a boost or someone to look for to embody the benefits of good health and athleticism Bronson's the guy."
Koenig grew up in La Crosse Wisconsin surrounded by a checker board of parcel lands occupied by Natives and non-Natives alike. He went to Pow Wows like any other Native American but his commitment to the game of basketball has put him in a position to inspire Natives both young and old."
Koenig opened up to "Wisconsin Voice" about his commitment to children in 2013, "I'm just trying to be the best role model I can be to Native Americans, especially Native kids. I always looked up to people who played basketball at a higher level than I did. So I just want to give them any encouragement I can."
Coming out of high school Koenig was recruited by powerhouse programs such as; Duke, North Carolina, and Kansas, yet his dedication to his people landed him at Wisconsin. "The main reason I choose Wisconsin was so all of the Native Americans and Ho Chunk Native's especially in my area could come out and see me play," said Koenig. Wisconsin Head Coach Bo Ryan opened up to "Wisconsin Voices" stating "He's just a delight to have around. He's very perspective and works very hard. We're proud to have him as a Badger. I know he's happy and I know were very happy."
Students at Haskell Indian Nations University have found inspiration in Koenig's success as well. Sophomore Allie Spruce, a Haskell Business Administration major, and lifelong Badgers fan stated, "I think it is awesome to have a Wisconsin Native playing for the Badgers. Koenig is a strong player and a huge contribution to the team. Frank Kaminsky, Sam Dekker, and Bronson Koenig are a triple threat on the court and I'm hoping to see them go all the way. This is our year!"
Sophomore Darris Funmaker, who is majoring in American Indian Studies commented, "Having a fellow Ho-Chunk tribal member on a #1 seed in the big dance demands a sense of pride being from the same state of Wisconsin. I have been following Dekker and Koenig ever since high school. The two fit perfectly into Bo Ryan's offense almost flawlessly. Funmaker went on to say, "The Impact I feel that Koenig has on Native Americans is by leading by example. I read an article on how he went and visited the Winnebago boys 2015 state champions while he was playing against the University of Nebraska. This was a class act. He is what Shoni Schimmel is to women's basketball for Native American scholar athletes.
Wisconsin will take on Coastal Carolina in the nightcap of the Omaha West regional Thursday evening, at 7:20 P.M. central time. The game can be seen live on TBS.