Gabby Barker (Shoshone/Paiute) in Tie for 12th at World University Championships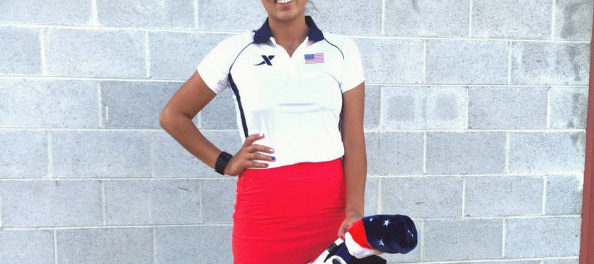 Following an opening round 77, five over, Lady Raider Gabby Barker  (Shoshone/Paiute) sits in a five-way tie for 12th place at the 16th annual World University Golf Championship held at the Planchetorte golf course in Brive, France.
Barker currently sits five strokes back of Hong Kong's Mimi Ho and Czech Republic's Karolina Vlckova who finished round one at an even 72 to sit atop of the leaderboard.
Michigan State's Sarah Burnhan recorded Team USA's highest finish on day one with a 73, (one over) performance to finish just one stroke ahead of Northwestern's Stephanie Lau. The US team was the only team to place three or more competitors in the top-15 at the end of round one.
As a team, the US currently sits atop the leaderboard of the event with a combined score of 147 to lead the Czech Republic (149), Hong Kong (149), France (151), and Chinese Taipei (152) who round out the top-five.
Round two of the 2016 World University Championships are scheduled to begin tomorrow morning with teams set to tee off at 7:30 a.m. local time. Live scoring of the tournament can be found here, along with additional tournament updates on twitter @WUCGolf2016.