Fort Lewis College men's cross country runner Steven Nez (Navajo) selected to compete for the Wings of America team at the USA Cross Country Championships Junior Race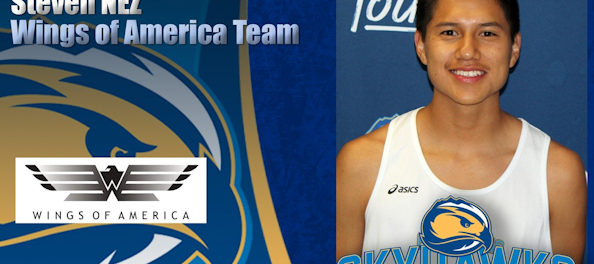 By: Sarah Meier, Assistant Athletic Director
DURANGO – December 18, 2017 – Fort Lewis College men's cross country student-athlete Steven Nez has been selected to compete for the Wings of America team at the USA Cross Country Championships Junior Race.
Nez, who is competing for Wings of America for the second straight year, will run at the Cross Country Championships Junior Race on Feb. 3, 2018 in Tallahassee, Fla.  Last year, he finished 23rd overall at the race.
"Steven is an outstanding runner but an even better person," said Fort Lewis College head coach Joshua Coon. "He always was a steady, consistent presence for us this fall and lived with a maturity most freshman don't have. I'm sure he will represent his family, school, and tribe in an honorable fashion and run fast as well."
From Gallup, N.M., Nez was selected to compete on the team base on his performance this past season at Fort Lewis College.  He competed in four races for the Skyhawks, and ran a career best 8K time in his first race of the season on Sept. 16 at the UC-Riverside Invitational (25:41.0).  He qualified to compete for the Skyhawks at the NCAA South Central Regional race on Nov. 4 in Canyon, Texas, finishing the 10K race in 33:55.7 (86th place).
Based in Santa Fe, N.M., Wings of America derives infinite inspiration from the surrounding Native communities and their rich running histories. Since 1988, the programs have used sport to encourage American Indian youth to look to the future while embracing a past they can be proud of. At full stride, Wings athletes break free from the stereotypes and statistics that stifle the ambition of so many Native youth. Instead, these runners use the opportunities they earn with Wings to show that they are the leaders, thinkers, and teachers of tomorrow.