Davion Jeffries (Muscogee Creek) Places 2nd at the 2016 Big 12 Wrestling Championship Final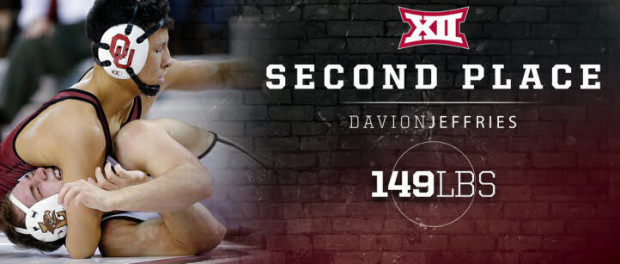 By Charlie Perry @CharlieHPerry
Kansas City- Oklahoma Sooner wrestler Davion Jeffries (Muscogee Creek Nation) finished the 2016 Big 12 Wrestling Championship in second place in the 149 pound division, Sunday at the Sprint Center. Jeffries fell to Oklahoma State's (1) Anthony Collica (11-3) in a major decision in the third period. Both wrestlers punched their tickets to the NCAA National Wrestling Championship on March 17 in New York City at Madison Square Garden with their conference finals appearance.
These 149 pounders entered the final match undefeated at 2-0. Jeffries moved into the finals with victories over Clayton Ream of North Dakota State (7-3 DEC) and Alex Kocer of South Dakota State (FALL). Collica bested Trevor Wilson of Utah Valley (FALL) and Timmy Box of Northern Colorado (FALL). These wins set up what would be the third meeting between the two wrestlers. Collica entered the contest holding a 2-0 advantage over Jeffries in previous meetings.
Collica took control of the first period with an early takedown giving him a 2 point advantage. Jeffries countered with an escape to pick up a point. Jeffries finished strong with a second takedown in the final 15 seconds of the period to extend his lead 4-1.
Jeffries was flagged for caution to start the second period. Collica would take advantage of Jeffries mental slip with an escape followed by a takedown to pick up 3 more points. Collica took a comfortable 7-1 lead into the third period.
Jeffries attempted to mount a comeback; escaping from an early third period hold to gain a point. Collica responded by applying a takedown to add 2 points to his score. Jeffries again escaped a hold to add a point to his total. Collica managed to apply a final takedown with 12 seconds remaining to secure the major decision (11-3).