Dacian Spotted Elk (Cheyenne/Navajo) Helps East Leopards Cruise Past Jude Memorial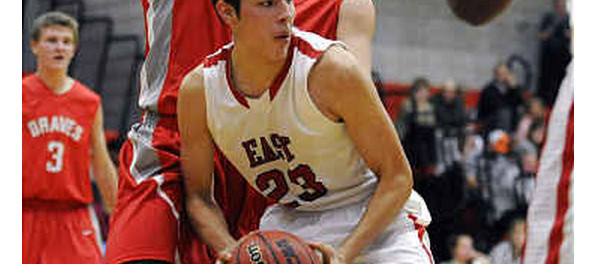 By Rich Winter
Didn't have anything to do last Friday, so I bucked up and headed down the street a few blocks to check out the East @ Judge Memorial basketball game.
Didn't take long to figure out the east basketball team was going to lay the wood to Judge Memorial.
East 12 21 13 16 62
Judge Memorial 10 4 8 9 31
The Leopards outscored Judge Memorial 12-10 in that first period but East really got it going in the second period with a 21-4 run and led 33-14 at intermission.
Alright, so I didn't know much about East going into the game. I noticed they were 4-7 on the Deseret News stat sheet before I entered the building so I wasn't expecting much.
Soon as the 7-foot-2 kid, Mark Jackson took the floor I stood up and took notice. While Mark Jackson is a little slow, not in great shape, he's 7-foot-2 man and he's got an uncanny ability to change the game. Judge Memorial tried to go at him but Jackson blocked shots and grabbed every freaking rebound in site.
The first time the 7-foot-2 kid scored, the crowd chanted, "He's a freshman" – The Deseret News website says he's a senior.
But, I gotta say, the best player on the floor for East last Friday was 6-foot-4 junior, Dacian Spotted Elk.
The kid showed some nice touch from outside, some good ball-handling skills and a great hard nose for getting to the basket. Spotted Elk finished with 19 points to lead all scorers.
Talked to his folks for a minute at halftime, seems like they hailed from Montana somewhere and that Dacian was just coming back from a concussion.
Well, East is 5-7 and judging by a few of their recent games, a 3-point loss to Bountiful and a two-point win over Kearns, the Leopards might be onto something here.
East scoring summary: Blake Hansen 4, Dacian Spotted Elk 19, Dan Rhondeau 6, Hayden Banz 5, Jordon Sutton 2, Mark Jackson 14, Matt Barker 2, Ryan Hurlburt 5, Taj Williams 5
Judge scoring summary: Ayden Auer 3, Bapa Falemaka 1, Ben Davis 14, Conner Mayer 7, Sam Robinson 2, Tofa Faingaa 4
East is home vs. Cyprus on Wed and at Woods Cross on Friday.