Chance Comanche fits right in inside the Arizona Wildcats' locker room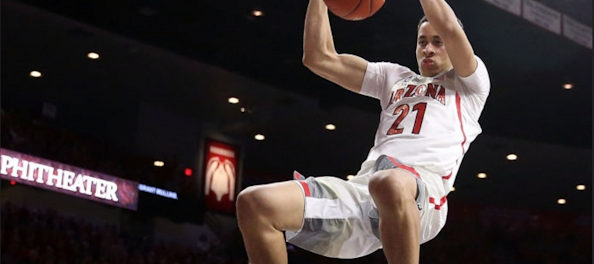 By Zack Rosenblatt Arizona Daily Star
Following Arizona's Pac-12 title game victory in Las Vegas, Chance Comanche was asked a question about his name.
Bill Walton had referred to Comanche as "Chief" during a television broadcast, and a reporter was curious if that was OK with the Wildcats' sophomore.
It was, Comanche said, and people have called him that since he was a kid. Comanche's father is one-quarter Comanche, one-quarter Choctaw and half African-American. Much of the UA sophomore's extended family is Native American and lives in the South.
Comanche fits right in inside the Wildcats' locker room.
"It's just interesting, because everyone brings their own little characteristics to the table," he said later. "Like, Lauri (Markkanen) eats reindeer. That's not normal to us. Keanu (Pinder) eats kangaroos. Like, he's ate a kangaroo. That catches you off guard."
These Wildcats are international. Markkenen is from Finland, while Pinder hails from Australia and Dusan Ristic is Serbian. California has long been the Wildcats' most fertile recruiting grounds, but this year's team has only two scholarship players from the area: Comanche and Parker Jackson-Cartwright. Both are from Los Angeles.
Even the walk-ons are spread out: Kory Jones comes from Herndon, Virginia; Jake Desjardins from Henderson, Nevada; Tyler Trillo from Southbury, Connecticut; and Paulo Cruz from San Diego.
Together, they're a team.
"I think off the court, everyone has a light-hearted personality," Jackson-Cartwright said. "It's really fun being around these guys. This is one of my favorite teams ever, at any level, because I think through all the pressure we go through every day, we can still have a lot of fun. I think that translates onto the floor. Our ability to laugh and ability to have fun off the floor really binds us and brings us together."