Cenia Hayes (Cherokee) added 18 points against the Ichabods who lost their second straight home contest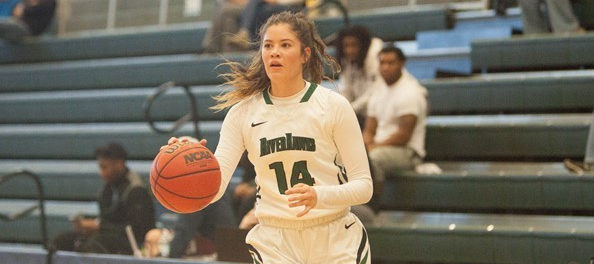 TOPEKA, Kan. –  Northeastern State set the buckets on fire for 14 minutes and ran away with a 67-58 win at Washburn on Thursday evening.  From the start second quarter through midway in the third, NSU outscored the 'Bods 33-9, and dropped five three pointers at Lee Arena.
Cailyn Long paced the RiverHawks (8-6, 4-3 MIAA) with 20 points and Cenia Hayes (Cherokee) added 18 against the Ichabods (12-2, 4-1 MIAA) who lost their second straight home contest; Bailee Eldred had her second double-double of the season with ten boards and 11 points.
Northeastern State led as many as 26-points (47-21) with 5:48 left in the third quarter before Washburn woke up from a daze.  The Ichabods would go on a 23-4 run in the next eight minutes to close the gap to 51-44 with 7:11 left in regulation.   NSU minimized the damage but their lead continued to bleed and the 'Bods pulled in within a pair (58-56) with 2:38 left.  Bailee Eldred came up with a bucket in the following possession before WU got back within two once again.
Following a Washburn foul away from the NSU bucket, Hayes picked up a pass from Long in the lane with 1:51 left for a bucket to make the RiverHawks' advantage back out to four (62-58).  On the following Washburn drive, they turned the ball over on a poor pass, and would be forced to put NSU at the free-throw line where they iced the contest.
Northeastern State had their best shooting night since the start of MIAA play on Nov. 30 at Northwest Missouri.  The RiverHawks went 48.9-percent from the field (23-47) while Washburn had their second worst shooting night of the season going 32.1-percent (17-53) on their side of the floor.
INSIDE THE NUMBERS 
4 – Prior Thursday's contest Washburn had won the last four contests in a row against NSU.
7 – Long matched a season high 20 points against Washburn for her seventh career game with 20+ points.
31 – Northeastern State out-rebounded the Ichabods 35-to-31.
37 – The RiverHawks led for 37 minutes and never relinquished the lead following a Long three-pointer at the 6:12 mark in the first quarter.
COMING UP NEXT
Northeastern State will remain on the road to face Emporia State (10-3, 5-1 MIAA) who played on Wednesday evening and won at home over Central Oklahoma, 61-53.