Cayla Jones (Yakama) scored 20 points to lead the Geoducks who win 56-53 over College of Idaho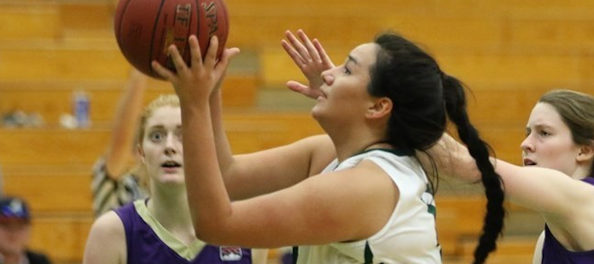 The Evergreen State College withstood a furious College of Idaho fourth quarter rally to take a 56-53 Cascade Collegiate Conference women's basketball win on Saturday night inside Costantino Recreation Center.
The Geoducks (6-6 overall, 4-4 CCC) led by as many as 23 points in the third period and took a 54-35 lead into the final quarter but missed all 11 of their field goal attempts while the Coyotes (1-12, 1-6) were 8-for-17. College of Idaho pulled to within 54-53 on a Lindy Westendorf basket with 5.0 seconds to play but had to foul on the inbounds play.
Evergreen's Cayla Jones (Yakama Tribe) stepped to the line with 4.5 seconds on the clock and drained both free throws, and a three-point shot by COI's Keahi-lele Roy missed a potential game-tying three-point attempt at the buzzer. College of Idaho outscored the Geoducks, 18-2, in the final 10 minutes.
Jones scored 20 points to lead the Geoducks, who also got 14 points from Deidra Miller, five rebounds from Alexcis Higginbotham and four assists from Jahpera McEachin. The Geoducks, who ended a four-game losing streak to College of Idaho, who shot 59 percent in the first quarter and 64 percent in the third period, ended the game at 38 percent (21-for-55).
College of Idaho, which finished the game shooting 34 percent (20-for-59), was led by Roy with 13 points and Sophia Jackson with 10. Jocelyn Cook-Cox grabbed 11 rebounds to lead the visitors to a 44-29 advantage on the boards, which is the first time this season that the Coyotes won the rebounding battle.
Evergreen plays the third contest of a five-game home stand on Tuesday night when the Northwest University Eagles come to Olympia. The game is scheduled to start at 5:30 p.m.