Bronson Koenig (Ho-Chunk Nation) Scores 11 Points as Wisconsin cruises past Prairie View A&M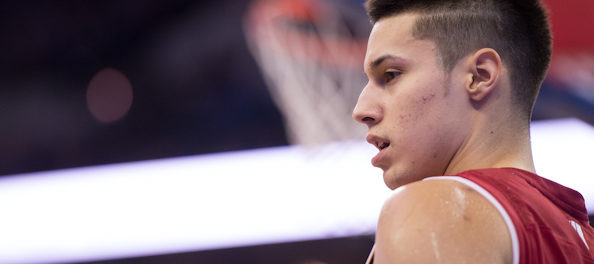 MADISON, Wis. (AP) — Nigel Hayes scored a season-high 17 points to lead No. 16 Wisconsin to a 95-50 win over Prairie View A&M on Sunday.
Hayes, who was 5 of 5 from the field and 7 of 8 from the free-throw line, was one of six Badgers (5-2) to score in double figures, including Ethan Happ, who had 12 points and 13 rebounds. Bronson Koenig (Ho-Chunk Nation) scored 11 points and had a pair of assists in only 22 minutes of play.
Wisconsin continued to struggle at times with its outside shot, hitting just 9 of 27. But the Badgers dominated inside against the smaller Panthers, outscoring Prairie View A&M (2-5) 42-18 in the paint and outrebounding it 44-26.
While Wisconsin couldn't find its shooting touch from outside, it more than made up for that with an efficient offensive performance elsewhere. The Badgers hit 24 of their 32 2-point attempts and were 20 of 27 from the free-throw line.
Zachary Hamilton led Prairie View A&M with 15 points.