Bill Self and the Jayhawks missed out on Wooden Award Finalist Ron Baker (Potawatomi)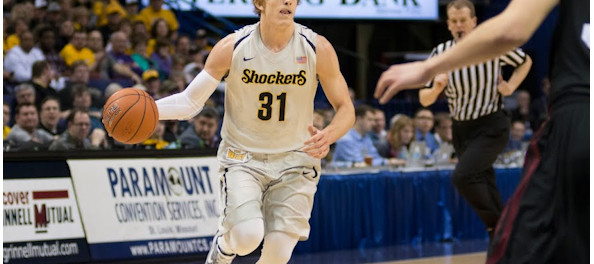 By Charlie Perry @CharlieHPerry
Omaha- The (2) Kansas Jayhawks (KU) and the (7) Wichita State Shockers (WSU) will play for the first time in 22 years at Century Link Arena Sunday. It's somewhat fitting that arguably the Sunflower state's most successful basketball programs in recent memory will meet in Omaha looking to move on to a Sweet 16 birth in Cleveland Ohio. The Jayhawks improved to 5-0 in games played in Omaha in the NCAA tournament following their victory over the New Mexico State Aggies (NMST) Friday 71-53.
Wichita State downed the (10) Indiana Hoosiers in a hard fought, physical contest 81-76 Friday. They enter the match up with an impressive 63-5 record spanning back to the beginning of their storied 2013-14 35-0 regular season mark that ended on a 2 point heart breaker to this year's odd's on favorite the Kentucky Wildcats, in last year's third round game. 6 players return from that team, 5 of which are probable starters and upperclassmen. There are 4 things you should be watching for as this revamped "Sunflower Showdown" blossoms.
Bill Self and the Jayhawks missed out on Wooden Award Finalist Ron Baker
Citizen Band Potawatomi member Ron Baker grew in in Scott City Kansas. Despite leading his high school to a state title his senior year and being voted on the 3A First-Team All-State, Baker only received two NCAA division I offers. He eventually decided to walk on at Wichita State.
Head coach Bill Self for the Jayhawks regrets the missed opportunity, "he's a terrific player, and I have great respect for how he conducts himself, how he carries himself and how he plays the game. You know, people make recruiting mistakes all the time and people get lucky recruiting and get unlucky recruiting all the time. I would say that there's a lot of people that made a mistake on Ron, and we would certainly be one of them that made a mistake, because we were not aware of him in the way in which I wish we would have been aware of him, because obviously anybody would love to have him in their uniform."
Height
The Jayhawks have some solid height. Look for Bill Self to utilize players such as; Perry Ellis 6'8, Landen Lucas 6'10 and Jamari Traylor 6'8 under the bucket against a smaller inside line up from Wichita State. Hunter Mickelson 6'10 could also see extended playing time due to a solid midrange jumper.
Kansas Head Coach Bill Self commented on the Shocker's height and overall style of play, "They're probably an average-size team that plays bigger than their size because they're strong, and they're tough. They got bodies that they can throw at you, Cotton and Baker are strong guys. VanVleet is strong. Carter is strong. Wessel is strong; they've got good, strong players, but the thing that probably impresses me most about Wichita State is from a coach's perspective, they play the game the way that I think all coaches like them to play; ball movement, open man, take the open shot, don't give up easy baskets. Whatever their philosophy is and how they want to go about doing things they're obviously very good at exercising that and certainly playing to that."
On the Shocker side look for Gregg Marshall to allot more playing time to Shaq Morris 6'7, Bush Wamukota 6'11 and Tevin Glass 6'8 off the bench.
Tekele Cotton discussed the size matchup with Kansas, "We're just going to grind it out. We know that they have size, and we're not as big as them, we're going to rely on our toughness, and we're going to get rebounds, and we're going to defend them and we're going to out there and just do what we got to do and just stay on our game plan and not worry about how big they are or whatever, because we're just as tough, and we're going to go out there and compete. We're not afraid of them being bigger than us."
Frank Mason III Vs. Fred VanVleet
Two true floor general Point Guards; Mason and VanVleet are both the total package for their teams. Mason caught fire Friday leading all scorers against New Mexico State with (IN). Masons' year has been above average as well averaging; 12.5 PPG, 3.9 RPG, 4.0 APG, and 1.4 SPG with just 2.0 TPG.
Shocker Head Coach Gregg Marshall gave his analysis of Mason, "Yeah, he's a tremendous guard. He really attacks downhill, like we've talked about Fred VanVleet attacking downhill. He can get you going right; he can get you going left, he can change directions. He can shoot the three, he's a very good defender. He's got good hands. He's a bulldog out there and very, very talented player and kind of the straw that stirs the drink for them. Should be a great match-up."
VanVleet had a monster game against Indiana, lighting up the stat sheet for; 27 points, 4 assists, and 2 steals. VanVleet has also had a solid year overall with averages of; 13.1 PPG, 4.4 RPG, 5.3 APG, and 1.8 SPG with just 1.6 TPG.
Kansas Head Coach Bill Self had some kind words about VanVleet, "I think he's deceptively fast. I think he can use his skill set to set up his speed. He plays at different speeds, and he shoots the ball, so you have to guard him, which sets up different things. He's a terrific passer, but the thing I liked, he's just a point guard. There are not too many true point guards. A lot of people think they can play point guard, but the bottom line is that's a wishful thought. There are not too many out there, he's a true point and knows how to run a team.
Resentment
Shocker fans have had a chip on their shoulders since Kansas put an end to the series in 1993. Many look at this contest as a classic David vs. Goliath matchup as the; small town, country, conservative, Wichita State fans take on the; well to do, liberal, and smug, city folk. Kansas senator Michael O'Donnell told Omaha.com, "There are people at the University of Kansas that see us as knuckle-draggers, as Neanderthals." Sheryl Wohlford, a member of Wichita State University's board of trustees told Omaha.com, "Big brother vs. little brother, that's how it feels."
Wichita State forward Evan Wessel added his views on the matchup, "It's obviously very emotional for our fans both ways, and it's a great atmosphere for college basketball in general; and it's great for our state in my opinion. But as far as players go, it's a chance to go to the Sweet 16, and that's how we're going to treat it. It's another game to advance in the tourney, and we wouldn't want to be anywhere else. I like the match-up; it's going to be great for basketball, like I said, and looking forward to the challenge.
The Kansas Jayhawks will take on the Wichita State Shockers at 4:15 P.M CBT.  The game can be seen live on CBS.