by Brent Cahwee, NDNSPORTS.COM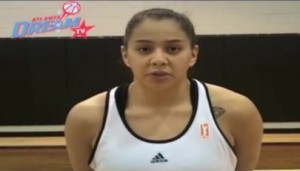 (Atlanta, GA) – Although the official preseason hasn't started for the WNBA just yet, it was announced last month that the women's Chinese National team would scrimmage four of the WNBA's teams. One of those teams would be the Atlanta Dream on May 4th. There were no cameras, announcers, or even chairs for those fans that were allowed to attend. The setting was more of a practice workout seen in any gym in america more than anything but despite the setting the new head Michael Cooper had a good opportunity to see what his veteran and rookie players could do, including Indian Country's very own Shoni Schimmel.
In an interview with Swish Appeal, Cooper answered some questions about his thoughts on Shoni's game and what she brings to the Atlanta Dream. Below is a transcript of some of those questions but for the full story click here.
  Swish Appeal: Schimmel was sort of a distributor today – more like a one (spot) than a two. Do you see yourself putting her at the one position this year?
Cooper: A lot of people say they see her as a scoring one, but I see her as a player than can play the game. I like the fact that she can play the one position but the biggest arsenal she has is that she's a three-point shooter; you can't back off of her like you can with some ones. I like the fact that she was moving the ball around and making things happen; I have her sitting next to me so she can eventually be that coach on the floor. I know she's a rookie coming into this, but this is old to her. It's basketball, it's just at another level.

Swish Appeal: You mentioned in another interview that she needed to develop her court vision. Do you think she's coming along on that?

Cooper: I think she is. Early in the game she had, like, three or four turnovers , but I think that's something as a coaching staff that we can live with, taking those risky passes. We see her like Magic Johnson and that's one of the things that Pat Riley said with him – he's such a great passer and she's such a great passer that she sees things before they happen on the floor. I don't mind her taking a risk and throwing the ball away that one or two times, because for the one or two times she throws it away three or four times she's going to make it easier for our players to score. I have to live with that.

Swish Appeal: Shoni Schimmel's jersey has already sold out. When you go to Tulsa, it might be like an Atlanta home game. Do you think the popularity of a player like Schimmel puts pressure on a coach to play her more often than she would be played otherwise?

Cooper: No. The important thing is that she learns and has fun and continues to grow as a player. Whatever those steps are – is it playing for five minutes, is it playing for twenty-five minutes? – we don't know, we'll take our time with that. She has to fit into what we're doing here. I think she's doing a great job so far. The one thing I love about her is that she's eager to learn more, and that's why I have her sitting with me, so I can talk to her as the game goes and talk to her about different things, because eventually we're going to put the ball in her hands and it's going to be hers – and then her and Celine will have to fight it out.

But it's going to be fun traveling. It reminds me of my early years with Magic. Magic was like the traveling circus; everywhere we went people wanted to see Magic. Same thing with Shoni. Big crowds in Seattle, Minnesota, and Tulsa? That's great! If we can get our away games to feel like home, we're going to win those.
The 50 minute scrimmage finished with the Atlanta Dream winning 88-72. No stats where taking or giving at the game but Shoni was described as playing the point guard spot and distributing the ball versus being a pure shooter.
The first official pre-season game for the Atlanta Dream will be on May 11th when they host the New York Liberty. Below is the only footage from the scrimmage: