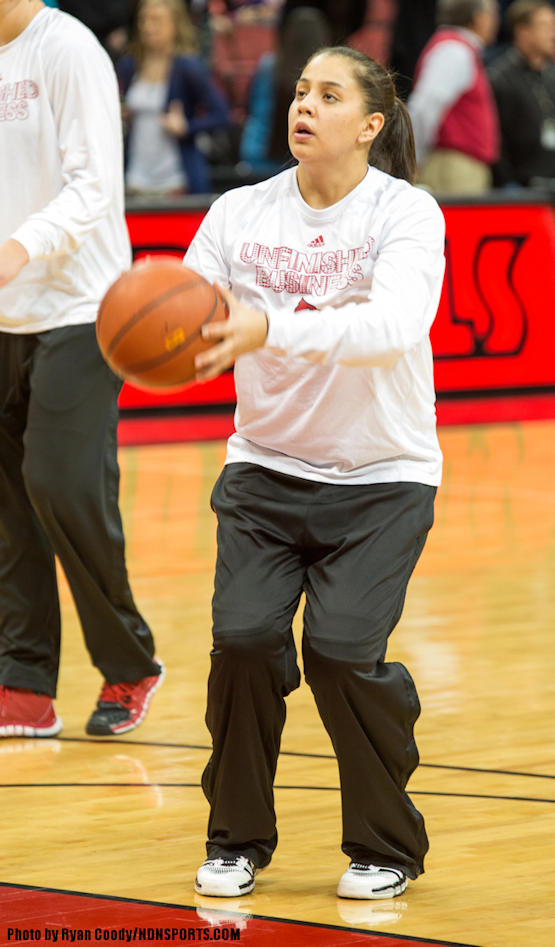 ATLANTA, April 25, 2014 – The WNBA Atlanta Dream announced Friday that it completed its training camp roster by signing its three draft picks – including first-round selection (No. 8 overall) Shoni Schimmel – and five additional players to training camp contracts. Per team policy, contract terms were not disclosed. 
Schimmel was the No. 8 pick in the WNBA Draft last week. She arrived to Atlanta on Thursday night and will begin officialy practices with the team on Sunday, April 27th.
Shoni finished her Louisville career with 387 made three-point shots, which was a school-record and just five short of an NCAA all-time record. She made multiple All-American teams and had a school-record 118 three's as a senior. During her career, Schimmel hit 34.4 percent from behind the arc. As a senior, she led the Cardinals at 17.1 points per game.
Schimmel became the first player in Cardinal history to score 2,000 career points, dish out 600 assists and grab 500 rebounds. She finished her career with 2,174 points, 600 assists and 552 rebounds.
In her senior season, Shoni was named to the USBWA All-American team and named a second team All-American by AP and ESPNW. She was also named a Naismith semifinalist and named to the Wooden ballot.
The Dream returns four starters from last year's team that reached the WNBA Finals for the third time in four years, and the playoffs for a fifth consecutive season. The team is led by All-Star forward Angel McCoughtry, who won her second league scoring title in 2013. Center Erika de Souza also earned All-Star honors in 2013, while forward Sancho Lyttle – the reigning FIBA Women's European Player of the Year – returns after missing all but six games last season with a foot injury. Guards Jasmine Thomas and Tiffany Hayes are also back after playing key roles in the backcourt last season.
The Dream will open training camp with a two-a-day practice on April 27, with the first practice scheduled for 9:30 a.m. at a location to be determined and the second for 3 p.m. at Philips Arena. All practices are closed to the public and open to the media for the last hour of each day. Media interested in attending should contact the Atlanta Dream's media relations department, as practice times and locations are subject to change.
The first game of the season for the Dream is on May 11.
Follow the Atlanta Dream this season on:
web: www.wnba.com/dream
Facebook: facebook.com/atlantadream
Twitter: twitter.com/AtlantaDream