Press release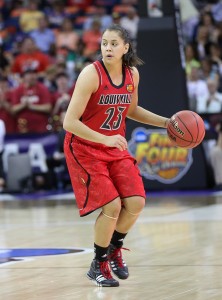 NEW YORK, April 10, 2014 – Odyssey Sims of Baylor, winner of the 2014 Wade Trophy as the NCAA Division I Player of the Year, and Stanford's Chiney Ogwumike, a four-time First Team All-American and two-time Pac-12 Player of the Year, and Shoni Schimmel of Lousiville  headline a list of 12 prospects who will attend the WNBA Draft 2014 presented by State Farm, which will be held on Monday, April 14, at Mohegan Sun Arena in Uncasville, Conn.  Live coverage of the first round will begin on ESPN2 at 8 p.m. ET. Coverage of the second and third rounds will be televised on ESPNU from 9-10:30 p.m.
Schimmel finished her Louisville career with 387 made three-point shots, five shy of the Division I mark of 392 held by Kansas State's Laurie Koehn. Schimmel, a 2014 All-American, holds the school record for career 3-pointers and also set the school record, knocking down 118 treys in her senior season. Schimmel also owns the school record for threes in a game, connecting on nine against Memphis this season. Schimmel finished the year leading the team in 3-point field goal percentage at 37.6. She finished her career at Louisville hitting 34.4 percent from behind the arc.
The Connecticut Sun holds the top pick in the draft for the second time in franchise history after garnering the top selection in this year's WNBA Draft Lottery presented by State Farm, which aired on ESPN's SportsCenter in December. Rounding out this year's top five picks are the Tulsa Shock (second), San Antonio Stars (third), New York Liberty (fourth), and Indiana Fever (fifth).
This year's telecast will also be available on computers, smartphones, tablets, Xbox, Apple TV and Roku via WatchESPN to fans who receive their video subscription from an affiliated provider.
The players invited to attend WNBA Draft 2014 presented by State Farm are:
Name                                College/University             Position                Height   
Natalie Achonwa               Notre Dame                         Forward                 6'3"
Stefanie Dolson                Connecticut                          Center                   6'5"
Markeisha Gatling             North Carolina State            Center                   6'5"
Chelsea Gray                    Duke                                    Guard                    5'11"
Bria Hartley                       Connecticut                          Guard                    5'8"
Natasha Howard               Florida State                         Forward                 6'3"
Kayla McBride                  Notre Dame                         Guard                    5'11"
Chiney Ogwumike            Stanford                               Forward                 6'4"
Shoni Schimmel               Louisville                              Guard                    5'9"
Meighan Simmons            Tennessee                           Guard                    5'9"
Odyssey Sims                  Baylor                                   Guard                    5'8"
Alyssa Thomas                 Maryland                              Forward                 6'2"
About the WNBA
The WNBA – which features 12 teams and is the most successful women's professional team sports league in the world – is a unique global sports property combining competition, sportsmanship, and entertainment value with its status as an icon for social change, achievement, and diversity.  The league, which counts Boost Mobile as its leaguewide marquee partner, will tip off its 18
th
 season in May 2014.  Through WNBA Cares, the WNBA is deeply committed to creating programs that improve the quality of life for all people, with a special emphasis on programs that promote a healthy lifestyle and positive body image, increase breast and women's health awareness, support youth and family development, and focus on education. For more information on the WNBA, log on to 
www.wnba.com
.