NDNSports Brief:  Major League Soccer (MLS) and NBC Sports Group has announced a new, day-in-the-life series, MLS 36. The first episode, featuring Major League Soccer scoring-leader Chris Wondolowski (Kiowa tribe) of the San Jose Earthquakes as he prepared for the 2012 AT&T MLS All-Star Game in Philadelphia, will premiere this Sunday, August 5, at 9:30 p.m. ET on NBC Sports Network. MLS 36 will follow the three previous successful 36 series Fight Night 36, IndyCar 36 and NHL 36 which currently air on NBC Sports Network.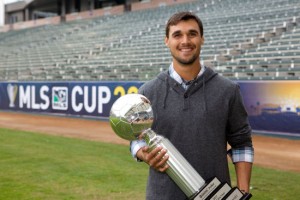 Capturing an in-depth and exclusive behind-the-scenes look into the life of this MLS superstar, MLS 36 takes viewers into Wondolowski's world for 36 straight hours as he and his fellow MLS All-Stars prepare to take on current European champions, Chelsea FC, in the AT&T MLS All-Star Game at PPL Park in Chester, Pa. The 30-minute episode will grant unparalleled access and give unique insight into Wondolowski's life as a professional soccer player, and his goal that opened the scoring in the All-Stars' 3-2 victory last week.
Check our local cable listing for exact times and channel number.