NDNSports Brief: The University of Louisville had an impressive 246 student-athletes named to the 2011-12 BIG EAST Conference  All-Academic Team, and one of those 246 student athletes was Jude Schimmel (a member of the Confederated tribes of the Umatilla reservation), who was a  freshman for the Cardinals Lady basketball team this past season. She is also the younger sister and teammate of  Shoni Schimmel was named to the Big East 1st team this past season.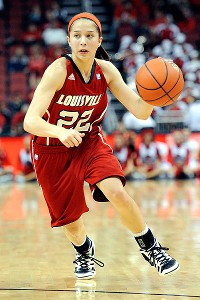 Nominations for the All-Academic Team are submitted by each of the BIG EAST's 16 member institutions and to be eligible for the honor, a nominee must have competed in a BIG EAST-sponsored sport, attained a minimum grade-point average of 3.00 for the preceding academic year, and completed a minimum of two consecutive semesters or three consecutive quarters of academic work, with a total of 18 semester or 27 quarter credits, not including remedial courses.
Jude returns the Cardinals this fall as a Sophomore and her older sister Shoni will return as  Junior.