Updated 6/22/2012 10:15PM cst
Alvina Begay, Navajo, competed at the 2012 Olympic Trials in the 10,000 meter run Friday evening and finished in 17th place with a time of 32:58.63. Representing Nike N7, Begay gave it her best effort but came up short in her bid to qualify for the United States Olympic team. Congratulations to Alvina in representing herself, her tribe and Indian Country well.
Click here for the official results: http://www.usatf.org/Events—Calendar/2012/U-S–Olympic-Team-Trials-TF/Results.aspx
==================================================
Indian Country's very own Alvina Begay, Navajo, will be competing for a spot on the 2012 United States Olympic team tonite in the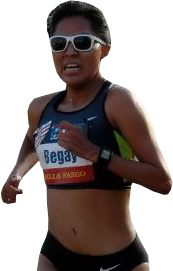 10,000 meter run at the 2012 Olympic trials in Eugene, Oregon. Begay qualifed a few months ago for the chance to earn a spot at the Stanford Cardinals track meet, where she met the "A" standard qualification and set a new personal record (PR) for herself.
The NBC Sports Network will televise the event, so check your local TV affiliate if it is available in your area and tune in to cheer on Alvina as she tries to qualify for one of three spots.
NDNSPORTS will provide updates on Twitter and Facebook so make sure to subscribe to either one of our social media outlets.
Below are links to the Trials Schedule & TV Schedule:
http://tracktown12.gotracktownusa.com/olympic-trials-schedule/
Live Coverage:
http://tracktown12.gotracktownusa.com/television-schedule/