(Mayetta, Kansas) – The Golfweek's National Pro Golf Tour made its stop at the Prairie Band Potawatomi tribal golf course (Firekeeper GC) this week for its Firekeeper Traditions first tournament appearance on the newly formed golf tour developed for aspiring and seasoned veterans to prepare or work towards gaining eligibility on either the Nationwide Tour or PGA tours.  Now its second year of existence the tour offers a chance for players from a wide arrange of golfing careers to get tournament tested or tournament prepared for next step in their golfing games. Three of those golfers participating at this tournament not only represent that wide-arrange of golfing backgrounds but also represent Indian Country as well. Fortuitously, all three golfers were paired up for an 8:20AM tee time which most likely marks the first time in a professional golf event where all three players in a group were solely from Native American backgrounds.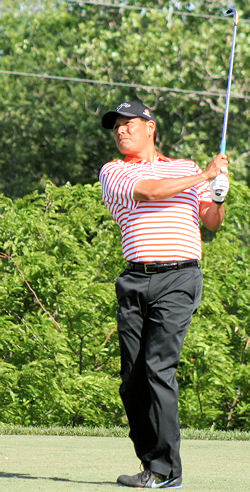 Notah Begay, III, who is half Navajo and Pueblo, is a 4-time winner on the PGA Tour and former college teammate of Tiger Woods is most definitely the most seasoned veteran of the group he comes from a multitude of golf tours including the Nationwide, PGA, and European tours. Now approaching the age of 40 later this year, Notah's golf career has taken a back seat for a bit as he continues work on his NB3 Foundation that helps get Native American youth healthy and active on reservations. Now in its seventh of year of existence, the NB3 Foundation promotes a health & wellness program, a soccer league program for reservation youth and of course a junior golf program. Begay is also a dedicated family man these days as he raises his children and enjoys playing every moment he can with them. Begay's business interest also keeps him focusing on opportunities for tribal business to reach greater markets nationwide. Begay's new line of health food from his Kiva Sun Food Corporation is looking to have tribal food products at Sam's Clubs and Costco nationwide later this year. When he isn't multitasking his business career, Notah also appears as an on air guest commentator for the Golf Channel and has agreed to do so for all the Major championships this year as well as the 2012 Ryder Cup.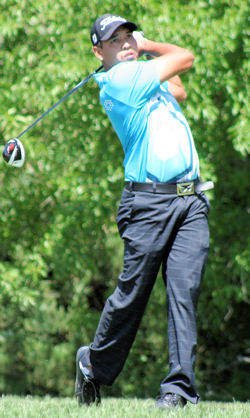 A newcomer to the professional golf world but most definitely not a stranger to the game is Gene Webster, Jr. who is of the Navajo, Oneida, and Ojibwe tribes. Gene grew up playing golf in the San Bernardino area as a youngster sweeping up many junior golf tournament awards across the country as well as Native American Junior golf championships. After finishing out a stellar high school career where he was a three time champion for the Andreas High School League, he went on to play his college golf at California State University – San Bernardino on a full-ride golf scholarship where he earned Freshman of the Year for the CCAA conference. Gene would go on to earn All-American status two more times before ending his college career. Now in his first season on the NPG Tour, look for Webster to start making a solid name for himself on this tour and tours to come.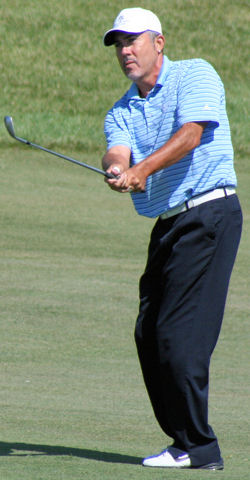 The last seasoned veteran playing in this group was 54 year old Steve McDonald is who is a member of the host tribe, the Prairie Band Potawatomi, Steve is a long time PGA professional instructor from the Kansas area who now resides in Florida, and he is a founding member of the First Nations Golf Association, a semi-professional tour for aspiring Native American golfers. Steve was also a golf coach and mentor for Gene Webster, Jr. as he was growing up in Gene's junior golf days. Steve now is part-owner of the Plantation Palms Golf Club in Land O'Lakes, Florida, in which he helps manages the courses day-to-day operations. Since taking over the club Steve and his fellow Native American owners have been able to increase memberships to the club and rounds played per year in hopes of making the club profitable.
These three outstanding golfers from Indian Country played under some tough conditions the Midwest weather brought to the golf course on the first day but Notah wasn't too far off the pace as he carded a (73) for his first round on the course he helped designed, which leaves him 6 back from the leaders. Steve and Gene didn't have a great start on the first day but look for them to battle back in the second round. The Firekeeper Traditions tournament runs from May 22nd to May 25th in Mayetta, Kansas, a suburb north of Topeka, Kansas.
Watch the players talk about their first day round to ndnsports.com!

For final results from this tournament you can click the leader board link @ http://www.nationalprotour.com/leagues/golf_leaderboard.cfm?clientid=4941&leagueid=19718&seasonnum=2012&flightnum=58