Press Release-
Northwest Elite Basketball is heading to Oklahoma City June 8th Thru June 17th to participate in the Jim Thorpe Native American Games. Players from many different tribes will be in attendance and competing in a wide variety of sports. Representing the Northwest Elite Basketball Squad will be: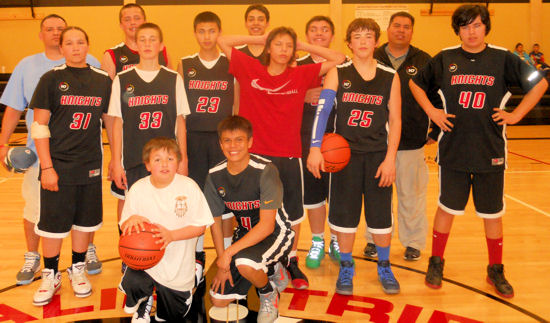 Chance Williams   Colville Tribe
Kieth Matt               Colville Tribe
Anthony Smith     Colville Tribe
Eugene Lasarte     Colville Tribe
Jackson Louie        Colville Tribe
Bryce Juneau          Tulalip Tribe
Sonny Martin          Red Lake Tribe
Jason Holt                Spokane Tribe
Ishtay Gallegos       Souix Tribe
George Peone           Cda Tribe
Qwana Matheson     Cda Tribe
Anntoine Holmes    Kalsipel Tribe
We are inviting you to attend a dinner followed by a drum group, cda travelers, at the Worley Idlong house Thursday June 7th 2012 at 6 pm it will be in the traditional potluck style. Any and all are invited to attend, drummers and singers welcome.
Send off the northwest elite 2012 boys basketball team off to the native american games in style.
Any comments or questions feel free to call 1509.634.1381
Also, Thanks to all those who have supported NORTHWEST RESERVATION SPORTS, I personally would like to thank the Colville tribal business council and everything they have done to support our efforts to help our student athletes get recognition on a national level.
We have many to thank the parents the players and all the people tribes involved  in making the games happen for our NW ELITE TEAM:
Kootenai tribe and Kalispell tribe andColvilletribe for there donations William womer and associates for there sponsorship and continuing support of our native athletes,Tissy Marchand for her help pointing us in the right direction Erica Deleon and the finance department Sonia Hoffman at Tanf for her commitment to working with us in securing the use of vehicles Jolene Seyler at risk management, Suzy Moomaw  Omak community center, the donations committee and Sylvia peasly, Ricky Gabriel, Harvey Moses, Ferd Louie, Brian Nissen, and all the council for allowing us to speak to you in person I'd like to thank all the drivers and a special thanks to Ernie Williams he has encouraged me to continue my passion and that passion is to help our young warriors succeed. northwest reservation sports is dedicated to developing training mentoring our youth to stay off the alcohol the drugs and get a college education through sports too many of our youth and native people have fallen prey to alcoholism and drug addiction and all your support encourages me to continue helping any way I can to keep our youth on a healthy path so I thank you all from the very deepest part of my being thank you all For your support.
Sincerely
Vincent j Adolph, Rr.