Ak-Chin Indian Community & Southern Dunes Golf Course Sign Sponsorship Agreement with Native American Professional Golfer Alexandrea Schulte, as Spokesperson for Tribal Community and Golf Course Activities.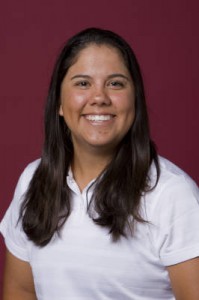 May 14, 2012 Maricopa, Arizona, Ak-Chin Indian Community & Southern Dunes Golf Course announced today they have entered into a sponsorship agreement with Alexandrea Schulte for Tribal representation and promotion of Southern Dunes Golf Course. Ms Schulte will also be at The National Indian Gaming Association's (NIGA) Indian Gaming Tradeshow and Convention in Phoenix, AZ March of 2013, which is the nation's premier Indian gaming event where Indian gaming executives, buyers, and industry professionals meet each spring to conduct serious business.
Ms Schulte will be assisting the Ak-Chin Indian Community with various Tribal Youth Educational and Sports Programs and the 16th of November will be present for the Grand Opening of Ak-Chin Family Entertainment Center, the largest indoor entertainment center in Arizona.
Louis J Manuel Jr., Tribal Chairman "We are very proud to be a sponsor for a young professional golfer such as Ms Schulte, she represents the core values of our youth in the Native American community".
Alex Schulte stated, "I thank the Ak-Chin Indian Community and Southern Dunes Golf Course for the opportunity work with Tribal Youth Programs. It is very exciting for me to be able to influence a new generation of Native American youth that recognizes the struggles ahead but have the knowledge to overcome them and realize their responsibility of continuing the traditions as they have been passed on to them. My goal is to provide a safe environment and positive attitude for Native American youth through academics and sports"
About: Ak-Chin Indian Community: The tribe's government was formally organized in 1961, under the Indian Reorganization Act of 1934. The Ak-Chin Indian Community is governed by a 5 member Tribal Council; which oversees the governmental operations and departments that service the community of Ak-Chin. Ak-Chin has an enrollment of over 770 tribal members. Its first major enterprise was Ak-Chin Farms, which currently harvests over 15,000 acres, making it one of the largest farming communities in the U.S.
Within the Community not only do we strive to maintain our cultural heritage and past, but we support and help develop the community around us. http://www.ak-chin.nsn.us/
About: Southern Dunes Golf Course: Sprawling across more than 320 acres, Southern Dunes Golf Club provides a welcoming, laid-back ambiance; a place where the world melts away and the game of golf becomes the focus. Here – amid uninhibited, 360-degree views of Arizona's magnificent desert expanses – this world-class, Troon Golf-managed club offers impeccable course conditioning, unmatched playability and superlative customer service, thus ensuring an unparalleled round of sensational Southwestern golf. Sculpted by the master architects of Schmidt-Curley Design, Inc., with the help of golf legend Fred Couples, Southern Dunes' creative routing, native grasses and rugged, unbridled landforms pay tribute to the game's great links-land courses. Strategically placed flashed-up bunkers add challenge to the experience and encourage golfers to hit their drivers on nearly every hole, while calculated approach shots into small, well-designed greens complexes place a premium on precision. And, with tee placements that stretch the course from 5,100 yards to more than 7,500 yards, Southern Dunes tests even the most accomplished golfers yet still provides novices with a memorable day of golf. To book tee times go to http://www.golfsoutherndunes.com/
About: Alexandrea Schulte is a Native American Professional Golfer form the Northern Ute Tribe. Ms Schulte graduated in December 2010 from University of Arkansas, Fayetteville, Arkansas with a Bachelor of Arts, and Majoring in Communications. She had a full golf scholarship, was 4 year starter including 4 SEC Championships, 4 NCAA Regional and 1 NCAA Championship appearances.
Ms Schulte's Mission is to guide Native American youth towards their full potential as healthy, well-rounded individuals that should never forget their proud heritage and realizing that each and every one of them has the opportunity to be successful while never sacrificing their culture or traditional ways.
Her 2012 Tour schedule consists of 27 tournaments in 12 states starting with the Florida Women's Open March 12-14. It includes 4 LPGA events and/or qualifiers, 10 LPGA Futures Tour events, 5 Cactus Tour events, 7 Suncoast Series events and the US Women's Open in Wisconsin
Contact:
Roger R White, Native American Marketing Enterprises, Inc
480-287-5804 rwhite@nativeamericanme.com