Kiowa Tribal member Chris Wondolowski has been named the Major League Soccer Player of the Month by the North American Soccer Reporters.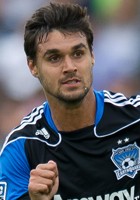 Wondolowski's four goals and two assists for the month keyed the club's April performance and lifted the Earthquakes into a tie for first in the Western Conference with Real Salt Lake, having played two fewer games total. And the 6-1-0 record is only second to the nearly flawless start of Sporting Kansas City, which leads the league at 7-1-0.
Accounting for more than half of the team's 15 goals, the striker is second in the league in goals with eight in eight games played thus far, trailing leader Thierry Henry (New York) by one.
The California native started the month with a two-goal performance in a 3-1 victory over visiting Vancouver, tallying the initial equalizer in the 68th minute and providing an insurance goal 10 minutes later. The equalizer snapped Vancouver's MLS record for a season-starting shutout streak, which had broken New York's 2007 record of 421 minutes only five minutes prior.
A week later in a showdown of two of the league's hottest teams, Wondolowski was a key component in a 2-2 draw in New York as the Earthquakes rallied twice. He set up Rafael Baca's equalizer in the 14th minute and then scored the club's second to level terms once again in the 35th minute.
The Major League Soccer Player of the Week and Month honors are selected during the MLS regular season by a panel of journalists from The North American Soccer Reporters (NASR). The group consists of members of print, television, radio and online media. More information and membership information can be found at www.soccerreporters.com.